Managed Microsoft Azure Services
Microsoft Azure helps organisations grow with greater efficiency and be more responsive to change. It is a flexible cloud platform that enables you to quickly build, deploy and manage applications across a global network of Microsoft-managed data-centers. You can build applications using any language, tool or framework. And you can integrate your public cloud applications with your existing IT environment. With Microsoft Azure, you can be up and running fast, scale up or down as needed, and avoid high capital costs—paying only for what you use.
Integralis is Tier 1 Microsoft Cloud Service Provider. We provide organizations with the guidance and assistance to help them gain the most benefit from Microsoft Azure Services.
 Azure services from Integralis include
Cloud Assessments
Azure Design, Implementation and Support
Site Recovery
Backup
Application Testing
IAAS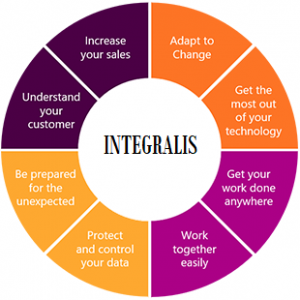 Microsoft Azure is an ever-expanding set of cloud services to help your organisation meet your business challenges. It's the freedom to build, manage and deploy applications on a massive, global network using your favourite tools and frameworks.
Virtual Machines
Microsoft Azure VM offers a simple and effective way to get the benefits of the cloud without having to make significant changes to your applications.
Cloud Services
Scale your applications in minutes with Azure cloud services. Create a staging and testing environment to minimise downtime for your customers.
Azure Active Directory
(Azure AD) Azure Active Directory is a complete identity and access management cloud solution that provides a robust set of capabilities to manage users and groups. It helps secure access to on-premises and cloud applications.
Backup
Microsoft Azure Backup  is a reliable, cost-effective option for backing up your data to the cloud.Azure Backup encrypts and protects your backups in offsite cloud storage with Microsoft Azure, adding a layer of protection in case data loss or disaster impacts your servers.
Azure Site Recovery (ASR)
Azure Site Recovery (ASR) provides DRaaS – Disaster recovery as a service by replicating your Hyper-V, VMware and physical servers to the Azure Cloud. Use site recovery to fail over your entire IT setup should your main site be struck by a disaster.
SQL Database
Scale performance on demand and reduce downtime to your databases with SQL Database as a service.
DISCOVER HOW WE CAN HELP YOU MAXIMISE THE VALUE OF YOUR IT SYSTEMS TO YOUR BUSINESS.
implementation and maintenance 
over 1200
satisfied customers
45 years
combined design experience
our 24/7
customer support